Nipper AGV
Nipper Stretch Hood
Advice & service
Advice
Installation & Training
Support
Automation
Industry
Production Logistics
Mobile robots
About Nipper
en
English (EN)
Get in touch
Support portal
Back to advice & services
Installation & Training
Nipper is the go-to partner for successful implementation and adoption of smart automation solutions within your production environment.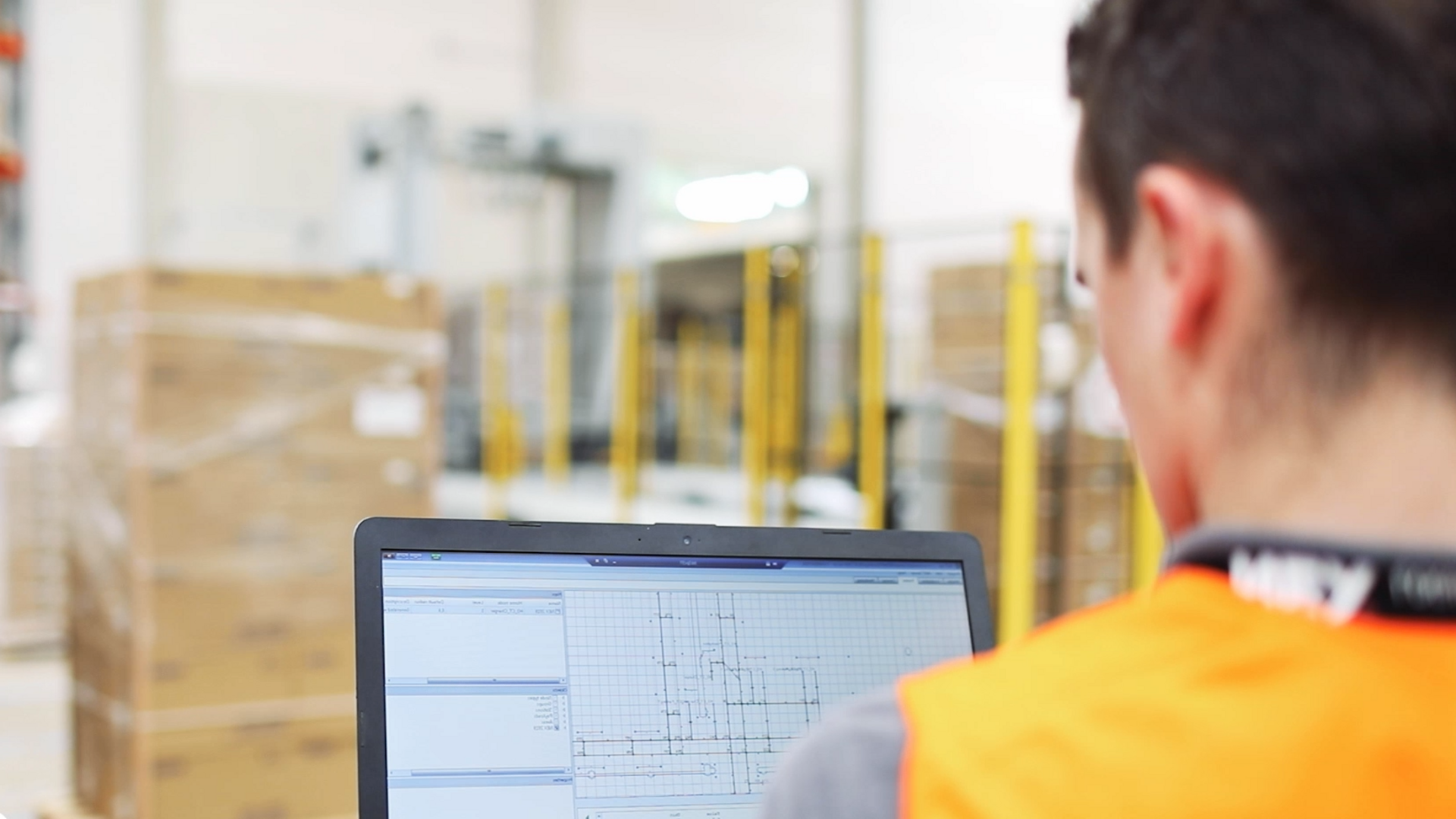 Once you have opted for a Nipper solution, we will work together to successfully implement the automation solution in your production environment. We create a layout, take care of installation, offer training courses, and after-sales support. Nipper is flexible, gladly offers advice and helps you use your automated production environment in the most efficient way.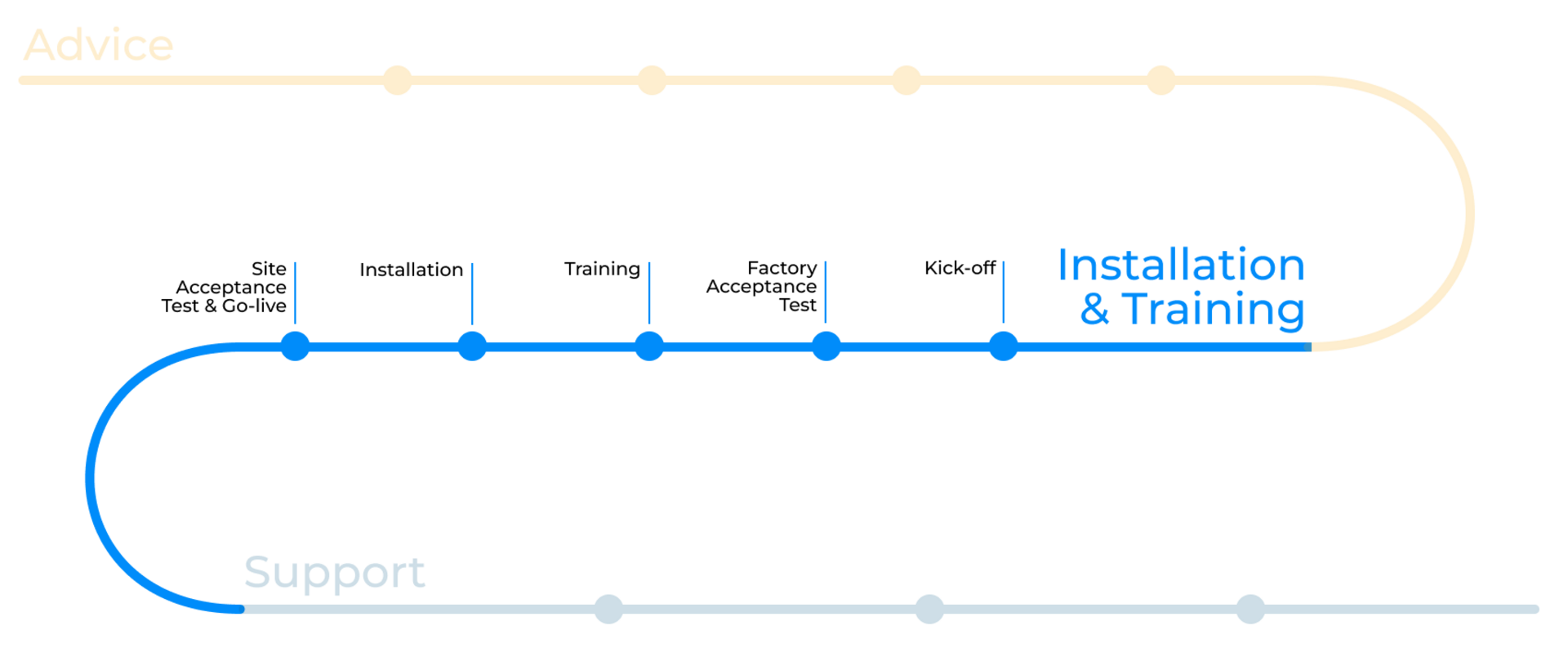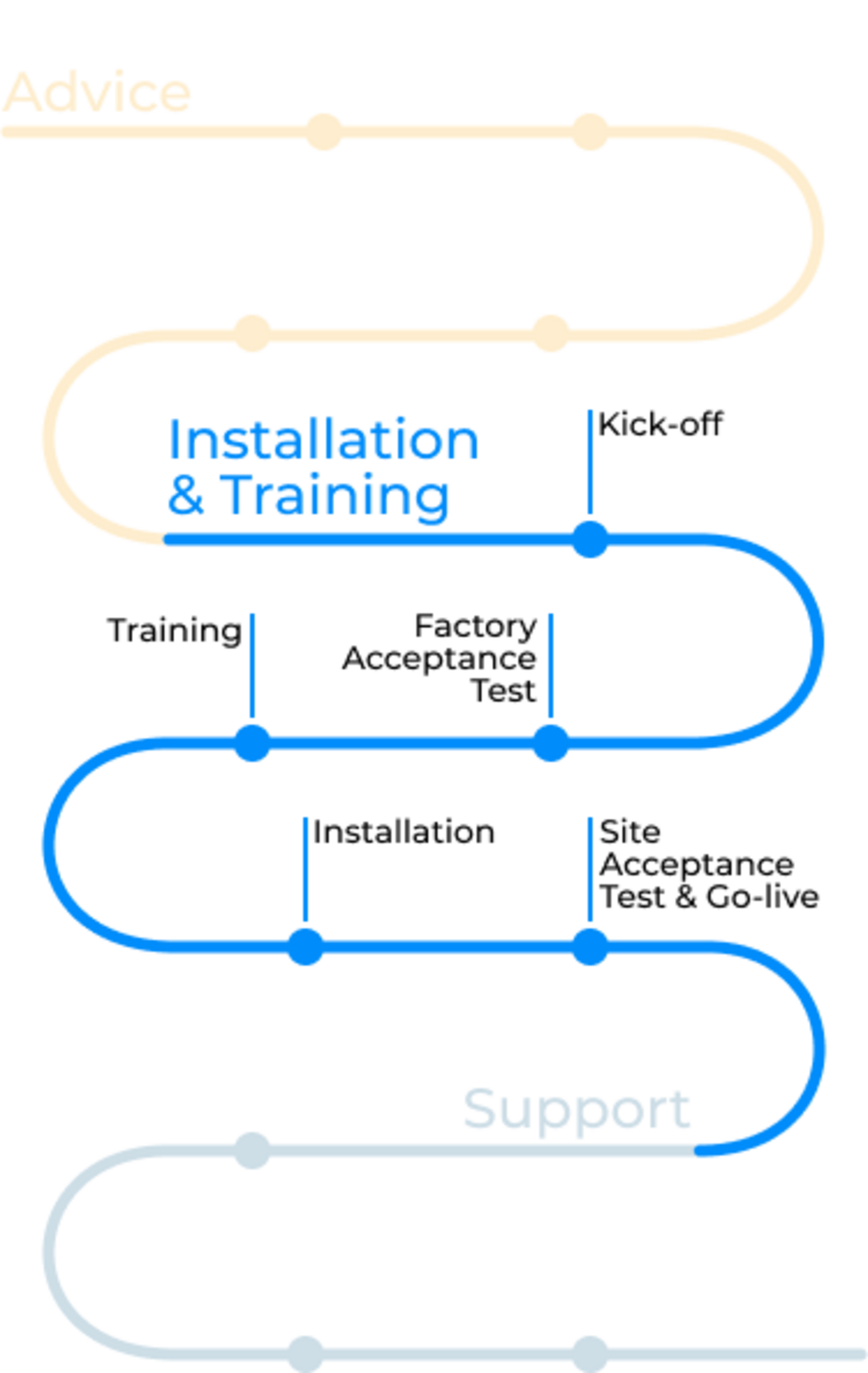 Installation process; from layout to commissioning
Phase 1
Kick-off and project layout
We will organize an on-site kick-off in the production environment to establish the layout and define the project. Because we want to thoroughly understand your production process to guarantee a successful outcome of the project. We will jointly discuss the objectives, allocation of tasks and expectations of the project.
We determine on site which additional products and interfaces are needed to successfully implement the project into your production environment and production process. For instance: signal pillars, pallet detection sensors, touch screens, pallet dispensers and more. By including these items in the project, we make sure that our solutions work well in combination with other building blocks.
We then create a layout of the production environment, which serves as a blueprint for installation.
We will meet with your technical support and IT department to make all necessary arrangements. For example, preparing the power sources and internet access points needed for smooth installation. Upon request, we can send any ancillary products in advance, so everything can be prepared for machine installation.
Prior to transportation, Nipper will perform a Factory Acceptance Test. During this test, we will jointly check if the automation solution meets the project requirements. You can attend this quality check on site or via a live video link. After successful completion of the test, the machine is ready for installation at your site.
Phase 2
Training
After completing our training courses, you know how to use Nipper's automation solutions in the most efficient way and, optionally, know how to maintain them. For example, you know how to adjust the routes of the AGV or the programs of the Nipper Stretch Hood independently or with Nipper's online support. This way, you and your team can flexibly use Nipper's products in an ever-changing production environment.
Phase 3
Installation
Our project leader will discuss the planning of the installation with you. This person will explain when we need support from your team and when we will carry out any tests that might affect production. We like to guarantee a smooth and predictable implementation.
We offer the option to set up integrations using ERP systems, such as SAP. For this purpose, we will schedule additional test days.
During installation of Nipper's AGV or Stretch Hood, production may be slightly affected, but can continue as usual.
Phase 4
Site Acceptance Test and commissioning
During the Site Acceptance Test, we officially hand over the automation solution(s) to you. We will carry out this formal quality check after installation to check whether the solution meets all project specifications.
We make sure our solutions work well with the systems you currently use in the production environment. Thanks to our building block technology, we can easily connect our automation solutions to your existing software or automatic systems, such as rolling doors.After successful completion of the Site Acceptance Test, we will officially hand over the automation solutions to you, the end user. From that moment, the solutions are covered by Nipper's factory warranty and the maintenance contracts and services purchased will enter into force.The mutual arrangements for the period after going live are laid down in the support and maintenance plan.
Directly after installation, our engineer will debrief your organization onsite.
To jointly finalize the installation project, we will set a moment of evaluation a few weeks after going live, where you can share your experiences using Nipper's automation solutions.
After completion, we will hand the project over to our support team. They will help you with any questions.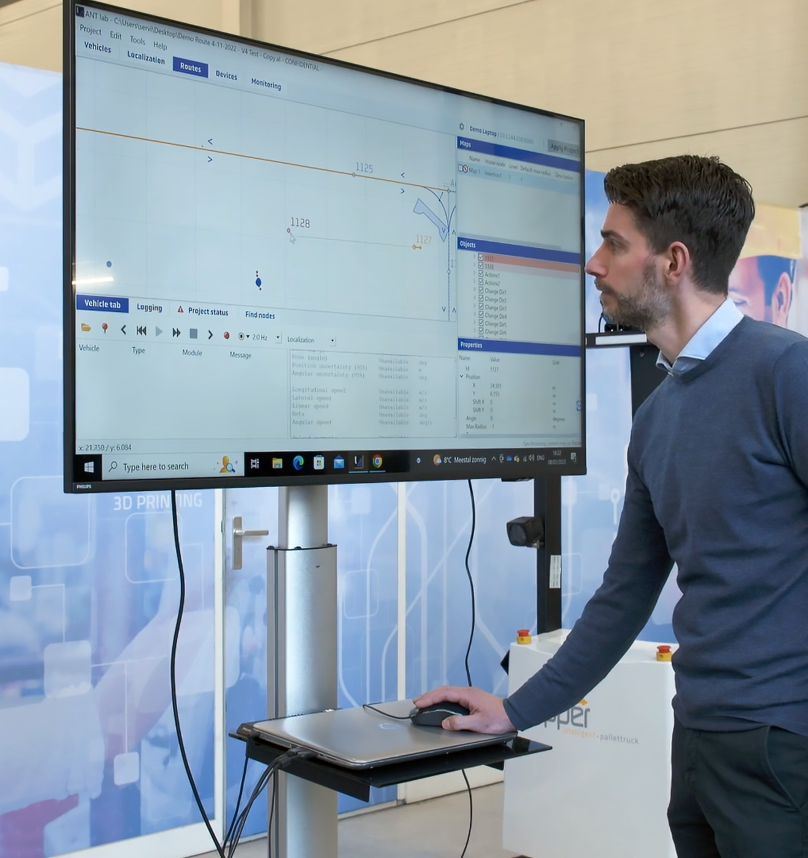 Nipper is your partner during the installation project
Nipper is your project business partner. We share our thoughts from the first layout until after completion of the project. We look beyond our own products and building blocks and advise you on other promising opportunities for optimization of your production processes.

When choosing Nipper, you work with a team of specialists. Our communication lines are short and communication is clear and efficient. We carefully manage your expectations. And thanks to our many years of experience, we know everything there is to know about the installation process.

To Nipper, quality is paramount. You, as our customer, are involved in the quality process. You are invited to attend important milestones and inspections, both in our factory and at your site. Making the project really come to life.
Training
Operator Training

During the operator training, we are training the employees who are operating Nipper's automation solutions on a day-to-day basis. After completion of the training, participants have basic knowledge of our solutions and know how to solve simple malfunctions.
Expert training

During the expert training, we train the employees in your team who are intended to become specialists in Nipper's automation solutions. After completion, they have basic knowledge of the solutions and know, for example, how to adjust the settings and solve more complicated malfunctions.
Maintenance training

Maintenance training is complimentary to the expert training and has been especially designed for the technical team. During this training, we focus on daily and planned maintenance of the automation solutions, pursuant to Nipper's maintenance regulations.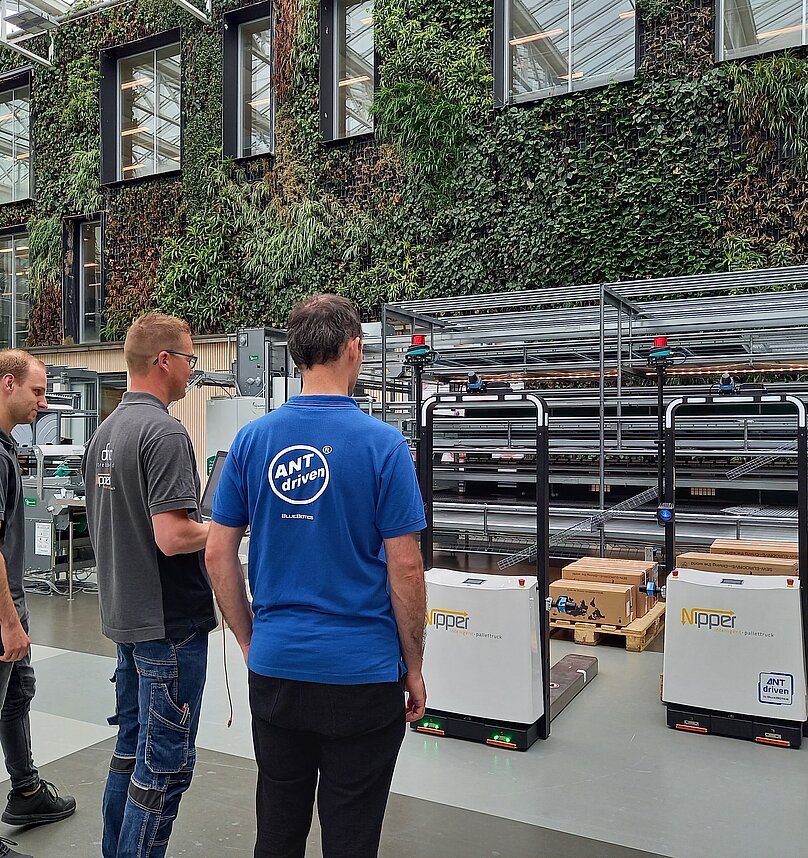 Proper training for every user
We offer various training courses, where we teach you and your team how to optimally use and maintain our automation solutions. So you can operate our products as independently and efficiently as possible in an ever-changing production environment. We will organize the training courses at Nipper's training center or at your site and, if necessary, we can provide customized training tailored to your specific needs and situation.
Find an answer to all your questions
Do Nipper's automation solutions comply with the applicable directives and safety standards?

Both the Nipper AGV and the Stretch Hood comply with the EMC 2014/30/EU and MD 2006/42/EC standards. In addition, the Nipper AGV and Stretch Hood comply with the EN415-6:2013 and ISO 3691-4 standard, respectively. If you have any questions about any specific directives and whether the automation solutions comply with those directives, please feel free to contact us.
We also work with other external parties as part of our project; does Nipper take these parties into account and how are the tasks allocated?

We would like to get in touch with any external parties that you work with as part of the project. Nipper will offer support and share its thoughts to successfully integrate the project. We can directly liaise with any other parties, if required. We share and collect the necessary information, help you take the necessary actions, and allocate the necessary tasks.
When will the acceptance test, and transport and installation be scheduled?

After kick-off, we can give a quite accurate indication of when these important milestones will be scheduled. This way, you will always know what to expect and what to take into account.
Are you ready to automate your business?
Want to know why automation is good for your business? Or in which industries we operate? We will answer all your questions!
Support
Next step