Nipper AGV
Nipper Stretch Hood
Advice & service
Advice
Installation & Training
Support
Automation
Industry
Production Logistics
Mobile robots
About Nipper
en
English (EN)
Get in touch
Support portal
back to advice & services
Support
Nipper helps you valorize your automation solution. From remote and onsite support to total maintenance agreements and smart spare part packages; We are always at your service.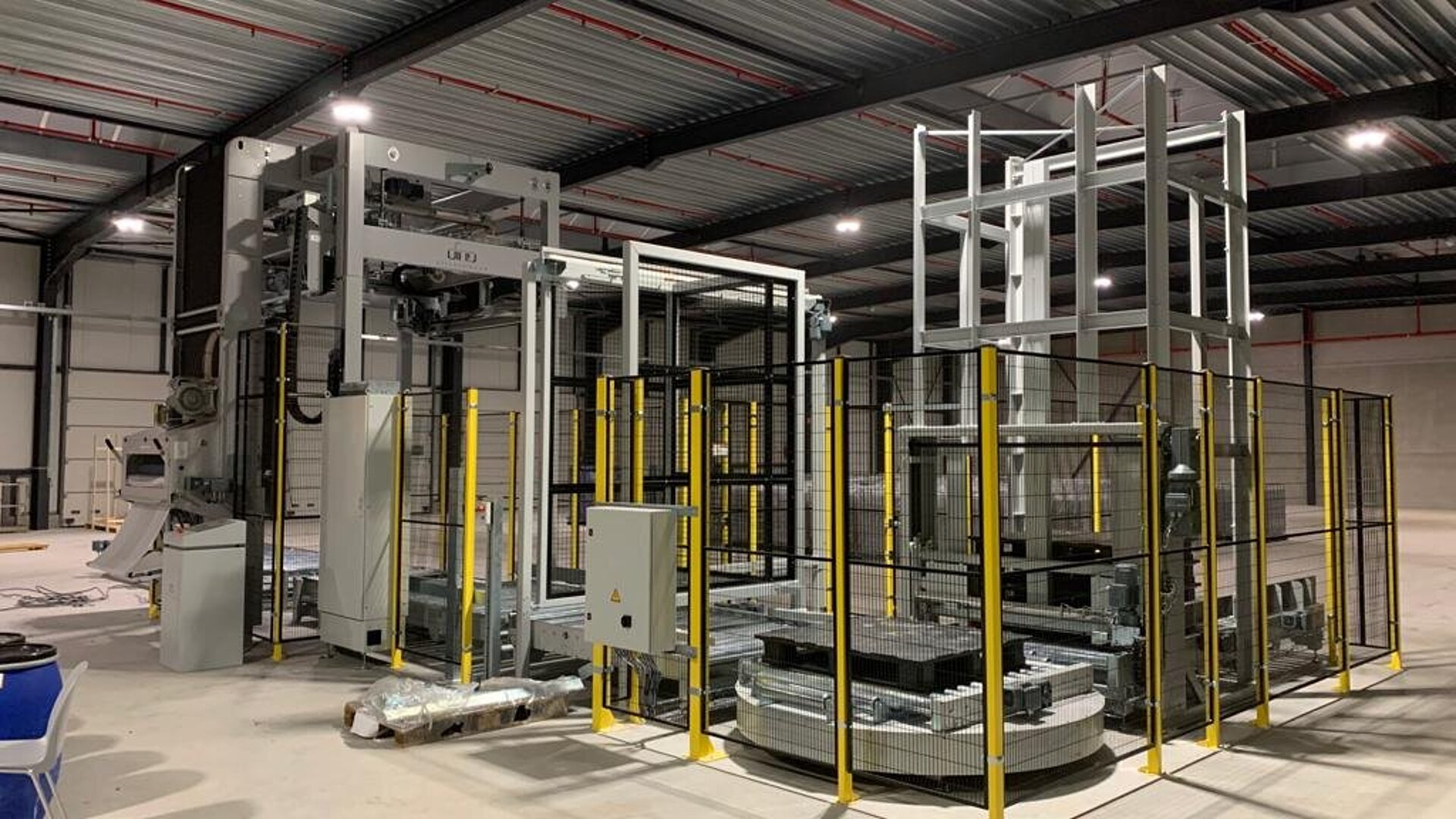 We will always answer your questions and help you find solutions to your challenges, even after installation is completed. Thanks to our years of experience, we know your processes inside out, so we can continue to offer customized advice. By providing training and online and onsite support, for example. You can quickly contact us via our online Support portal if you are experiencing problems. And what's more, we have all spare parts in stock. This way, we guarantee minimum downtime, so you can focus on your specific processes.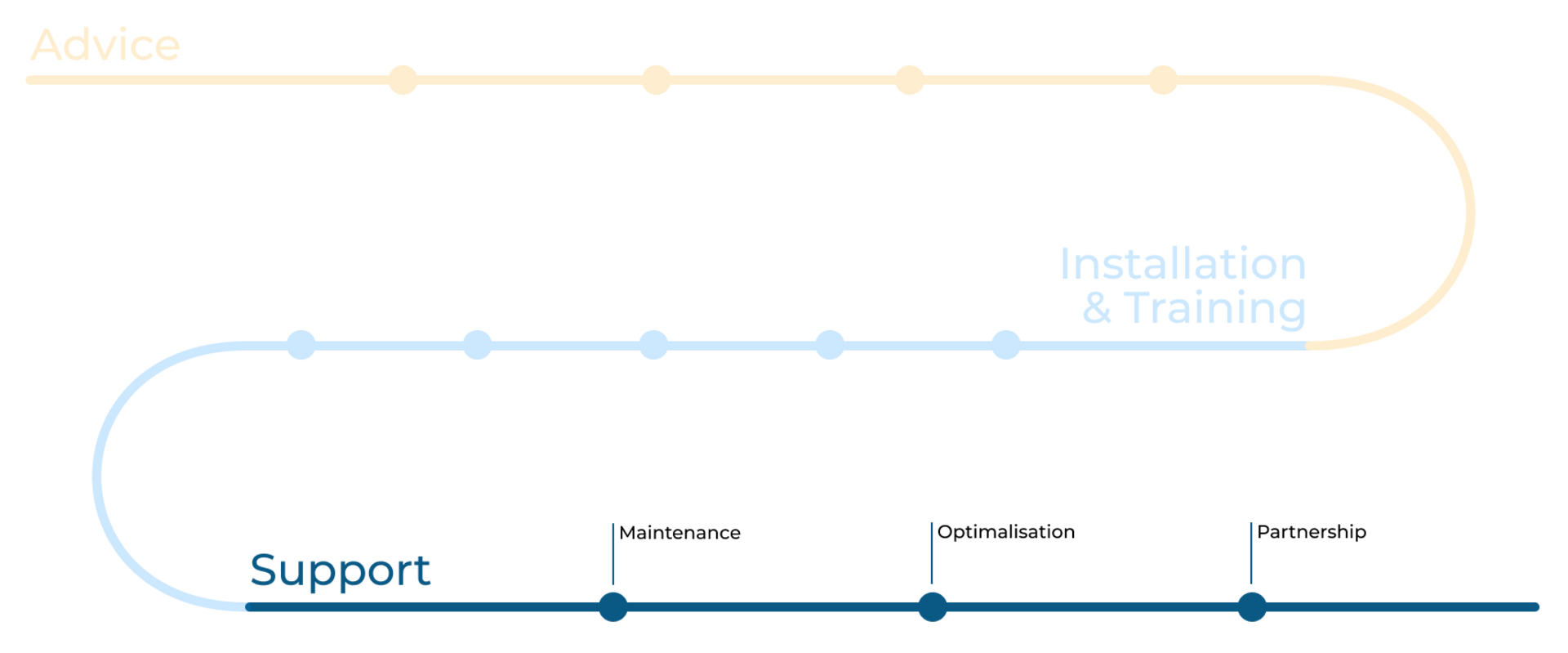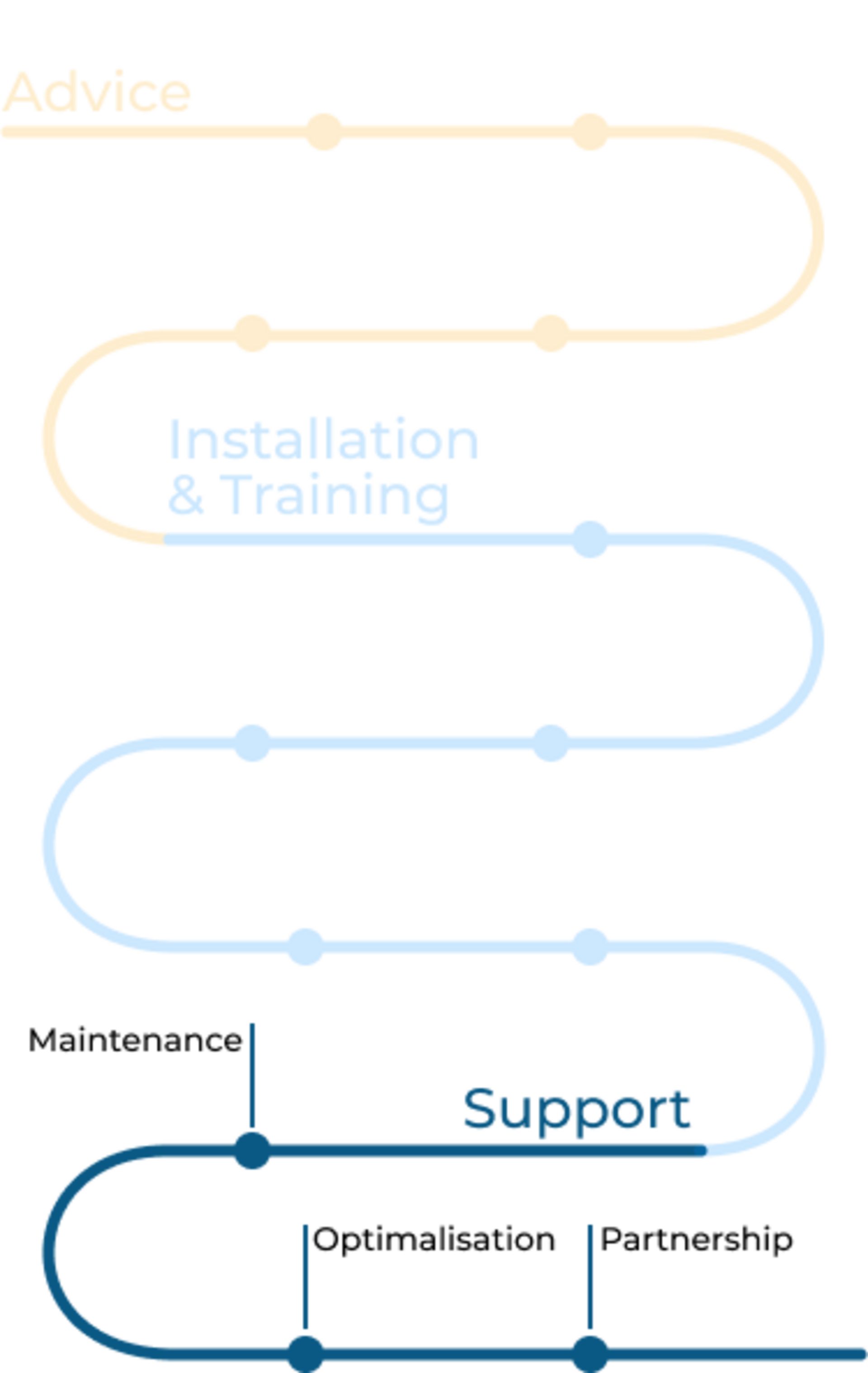 Quick and local support

We can quickly offer remote support via our Support portal. Additionally, Nipper offers onsite support if necessary, or we will hire a local partner.
Total service agreement

You are guaranteed support and maintenance under our Service Level Agreement. We provide preventive maintenance to tackle problems before they arise.
Transparent warranty

All Nipper's products and solutions are covered by warranty. This will be clearly laid down in mutual agreements.
Spare parts in stock

We have many spare parts in stock. We not only provide spare parts packages to match your specific downtime restrictions, but we also offer a spare parts stocking service, so you will never be faced with any surprises.
Ongoing training courses

Nipper offers ongoing training courses to help you independently operate our automation solutions without having to rely on our expertise and get maximum return from your automation solutions.
Personal contact

A dedicated team of specialists will continue to offer advice. They will take a fresh look at your processes to be able to offer the best possible solutions.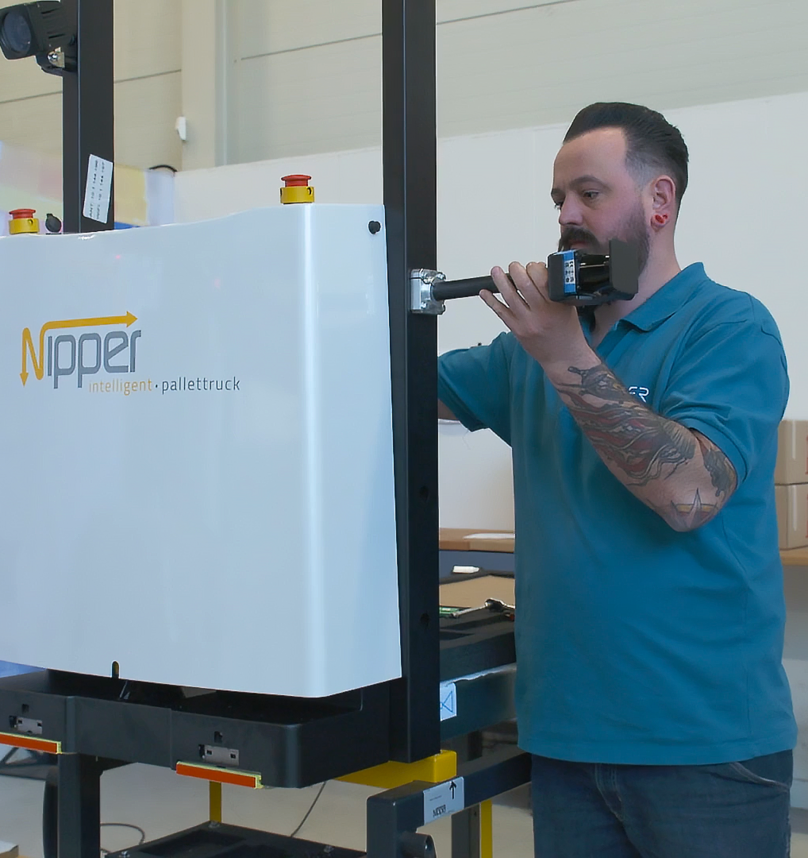 Online and on-site support
Wherever in the world your plant is located, Nipper Support is always close at hand. Questions can be asked, and support will be provided via our Support portal. Depending on mutual agreements and the level of urgency, we aim to provide quick and appropriate support with short lines of communication. In addition, we offer remote support, meaning that we will access your system remotely.
Moreover, Nipper also offers local onsite support. Whenever necessary, a Nipper specialist or a specialist from a local partner can visit your site to have a look at the problem, offering you quick support with a fast response time and short lines of communication in your own language.
Service agreements for planned and preventive maintenance
Under our service agreements, we are responsible for maintaining all integrated automation solutions. Allowing you to entirely focus on the most important processes in your company. By providing planned and preventive maintenance, we keep unplanned downtime to a minimum. We carefully listen to your feedback and take this feedback into account when optimizing our products and services.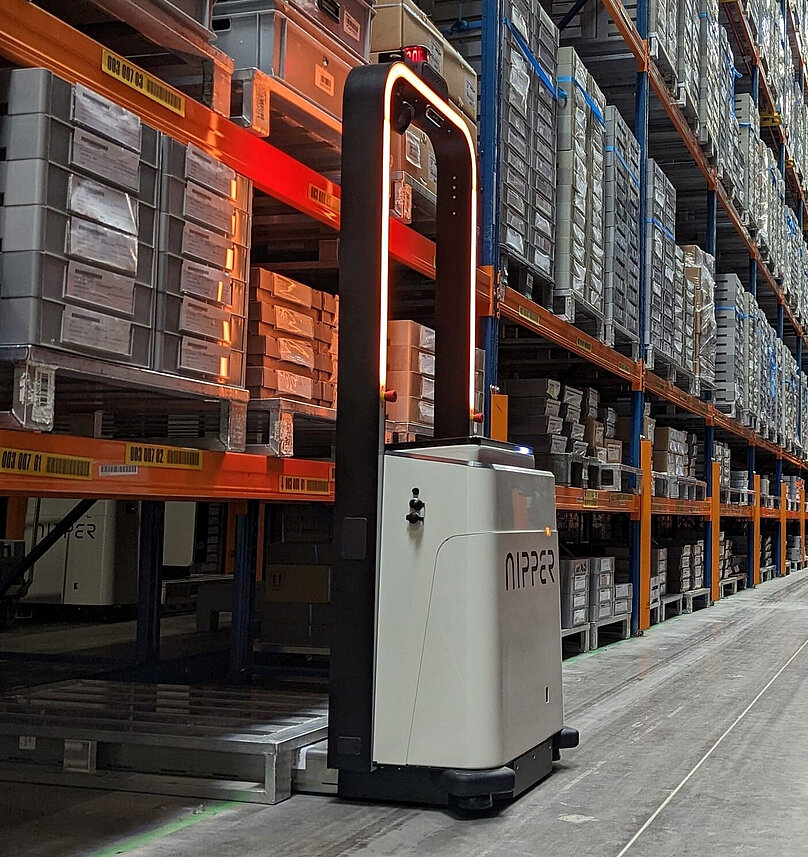 Parts in stock with Nipper Parts
Prevention is better than cure, also in a production environment. Downtime should therefore be avoided. Should any of Nipper's automation solutions be out of order, all processes must be designed in such a way that downtime is kept to a minimum. With the Parts Pool Participation module, we guarantee the availability of the most important spare parts. Ensuring that you are never faced with any surprises if something breaks down. You select the carrier of your choice and determine the time of delivery.
We always use the original Nipper parts to ensure that all Nipper products are of equal quality after reparation. Nipper also offers an overhaul solution. By reusing certain parts, we can offer a sustainable solution against a lower price without compromising on quality or voiding the warranty.
Ongoing training courses
We offer various training courses where we learn (new) employees how to optimally use and maintain Nipper's automation solutions. Our goal: making sure that you can independently operate our products without having to rely on our expertise and use them as efficiently as possible in an ever-changing production environment.
We offer the following courses:
Operator training

Expert training

Maintenance training

Customized training
Find an answer to all your questions
What can I do if my Nipper product is not working properly?

As a customer, you have access to our online Support portal where our specialists will try to answer your questions or help you solve the problem. Our specialists can access your automation solution remotely and quickly identify any problems and solve them where possible. If they cannot solve the problem, we can always provide you with onsite support.
How can I make sure new employees also know how to properly operate the Nipper solutions?

Nipper offers specific, customized training for operators, mechanics and experts. Training courses are given in the Nipper training center or on site. This way, we make sure that your entire team knows how to properly operate our automation solutions and that your plant runs like clockwork.
How can I prevent my Nipper product from malfunctioning?

We offer maintenance agreements under which all necessary maintenance is planned and executed.

This way, your product remains in excellent condition, any unplanned downtime is prevented, and the service life of the product is significantly extended.
Can you quickly supply spare parts?

We offer the Parts Pool Participation module as part of our maintenance agreements, so you don't have to worry about any parts being available. Under the agreements, parts are immediately packaged, sent, and delivered via your preferred carrier without first having to submit a purchase order.
Are you ready to automate your business?
Want to know why automation is good for your business? Or in which industries we operate? We will answer all your questions!
Advice
Back to first step