Nipper AGV
Nipper Stretch Hood
Advice & service
Advice
Installation & Training
Support
Automation
Industry
Production Logistics
Mobile robots
About Nipper
en
English (EN)
Get in touch
Support portal
Back to automation
Various types of mobile robots for logistics automation
There are various types of automated mobile robots that can help you make your production logistics faster, safer, and more efficient.
Mobile robots in production logistics
Many industries are facing staff shortages. Robotization and automation provide key solutions for completing more work with the same number of people, especially in production environments. Mobile robots can take over parts of the production logistics, such as transport of materials. Allowing you to deploy your staff where you need them most: on the assembly line.
Mobile robots have become even more efficient and intelligent in recent years. The number of Automated Mobile Robots available has also increased significantly. But how do you know which type of mobile robot best matches your production process? We explain the differences between two common types of robots in production logistics: the Automated Guided Vehicle (AGV) and the Autonomous Mobile Robot (AMR) and explain the best option to consider for your situation.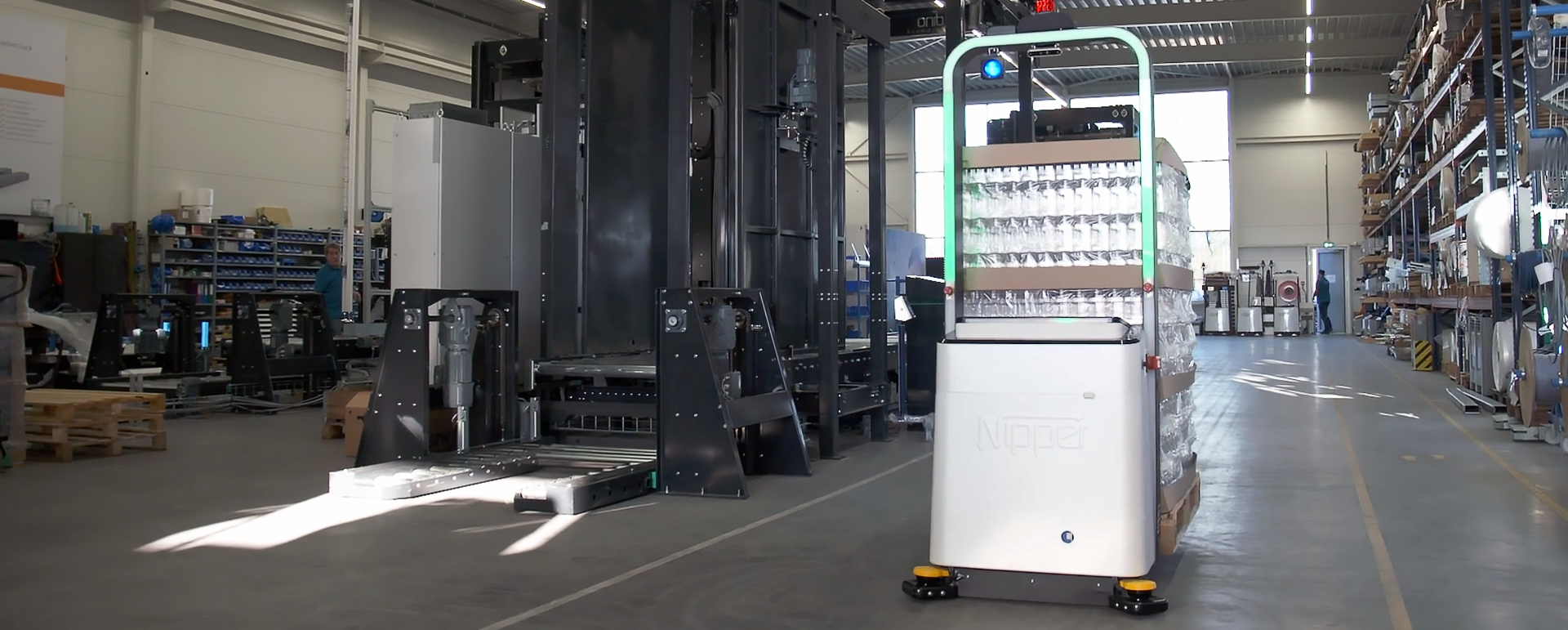 Many types of mobile robots: AMR versus AGV
Both Automated Guided Vehicles (AGVs) and Autonomous Mobile Robots (AMRs) are designed to transport materials from A to B. However, the way they do that is completely different
What is an Automated Guided Vehicle (AGV)?
An Automated Guided Vehicle (AGV) is an unmanned, computerized load carrier that moves through spaces following a predetermined route. An AGV typically uses wires, magnetic strips, or sensors to navigate. The AGV can detect obstacles, but it cannot navigate around them. So, it remains stationary until the obstacle is removed.
The advantage of an AGV is that it is very predictable: it always follows the most efficient predetermined route. The fact that it needs expensive hardware to navigate is a disadvantage. If the layout of the room is changed, the hardware must be adjusted accordingly to create new routes.
What are Autonomous Mobile Robots (AMR)?
An Autonomous Mobile Robot (AMR) is an unmanned, computerized load carrier that uses software to calculate the most efficient route from A to B. When an AMR encounters an obstacle, it will move around it and calculate an alternative route.
The advantage of an AMR is that it can be flexibly (re)programmed based on the layout of the plant. Besides, an AMR can bypass obstacles and take an alternative route. One of the disadvantages, however, is that the flexible bypassing of obstacles takes time and thus reduces efficiency. You have less control over the route the robot is taking. Moreover, the AMR cannot be used in narrow spaces, as there is not enough room to change routes.
The ideal combination
So, both the AGV and the AMR have their advantages and disadvantages. In the ideal world, you combine the AMR's flexibility with the efficiency and safety provided by an AGV. Thanks to years of experience and innovation, Nipper has managed to develop a product combining those features: The Nipper AGV.
Nipper's mobile robot: The best of both worlds
Nipper has developed a mobile robot combining the advantages of a classic AGV with the AMR's intelligence. The Nipper AGV uses predetermined routes, like a classic AGV. However, these routes are software-based instead of hard-ware based, so you do not have to invest in expensive hardware. These virtual routes can be easily adjusted and optimized based on the production environment. If the layout is changed, because an additional assembly line is installed for example, the AGV can easily and autonomously adjust its route accordingly, without the need for any additional investments.
Thus, providing the perfect balance between flexibility and predictability. Predictability is important because it allows for smooth processes. With efficiency in mind, we choose not to have the Nipper AGV drive around obstacles. Instead, we train people to put the materials in the right places so that there won't be any obstacles. This way, we control the AGV's most ideal route, and make sure it can also be used in narrow spaces.
Is a mobile robot the right choice for your production environment?
Various factors need to be considered when determining if you can use a mobile robot, such as an AGV or AMR, in your production environment. In some cases, a mobile robot is not the best option, and you are better of using a roller conveyor to move materials.
Key factors to consider are flexibility, capacity, available space, and the conditions in the plant:
Production environments are subject to change. An AGV is much more flexible than a fixed roller conveyor. Moreover, an AGV can easily adapt to any new situation.
In high output situations (more than 80 pallets per hour per assembly line), a roller conveyor is often the better option. Nipper also offers roller conveyors, because, as a knowledge expert in the entire field of transport and packaging, we look at what's best for you. And if you are better of using a roller conveyor, that is what will we recommend.
In dusty environments, a roller conveyor often is the best choice, but in narrow, manned spaces where lots of goods are being transported, an AGV often is the better and safer option.
An automation solution that best matches your logistics process
You should always take the conditions and processes in your production environment into account when looking for an internal or production logistics automation solution. Nipper offers an extensive range of solutions for transportation of goods from A to B and more. We will recommend a customized solution based on your existing production processes. We will not only advice you on the best product to use but offer you a complete solution for your specific situation. Of course, this also includes installation and after-sales support.
This solution may include a mobile robot, but we can also recommend a roller conveyor or a combination of both. We will offer the automation solution that best matches and optimizes your way of working. This way, you will benefit most from your new and automated logistics process. Which is very efficient to boot because the Nipper AGV communicates with your business software. Ensuring that the logistics process is perfectly in sync with your other, existing processes. Jointly achieving the optimum outcome!
We would like to give you an example of how Nipper can help you automate and optimize your logistics process. As soon as a pallet of products is ready and the operator scans a barcode and reports the pallet ready, the Nipper AGV automatically receives a signal, so that it can pick up the pallet. Very efficient indeed!
Want to know more about automating your business?